Home Automation in India – Future trends, Problem & Solutions
Technology is a critical factor in the way we function today, disruption through technology has bought forth some of the most efficient solutions in many aspects of life today. From smart phones, internet banking, e-commerce, to new age innovations such as wearable technology and smart homes, technological innovation is impacting our lives like it has never before; stitching together people, systems and solutions Seamlessly.
Home automation has its roots in smart home appliances which has over the years led to the development of integrated smart homes. Home automation today largely consists of four functional segments –Lighting, Security, Audio/Video and HVAC (Heating, Ventilating and Air Conditioning). Residential usage is the highest in the market and accounts for nearly 60% of the home automation industry.
The residential segment accounts for nearly 60% of India's home automation industry (out of which individual homes and villas account for 75-80% of market and builders account for ~20% of market). This segment has the highest growth and is currently growing at a CAGR of 35-40%. The market for residential home automation is highly fragmented, especially in home security systems.
Commercial spaces contribute to 30% of the home automation market. This segment is largely driven by security and access systems. Efficient building management systems are fast gaining popularity in India as well.
The hospitality industry also uses home automation and accounts for 10% of the market. Security and lighting systems are popular in this sector due to the growing need for differentiation.
"A smart home should be a dynamic home that can adapt to everyone's needs. hIOTron home automation scenes gives you the opportunity to create customized scenarios within a routine."
Share of Home Automation Market across India in 2018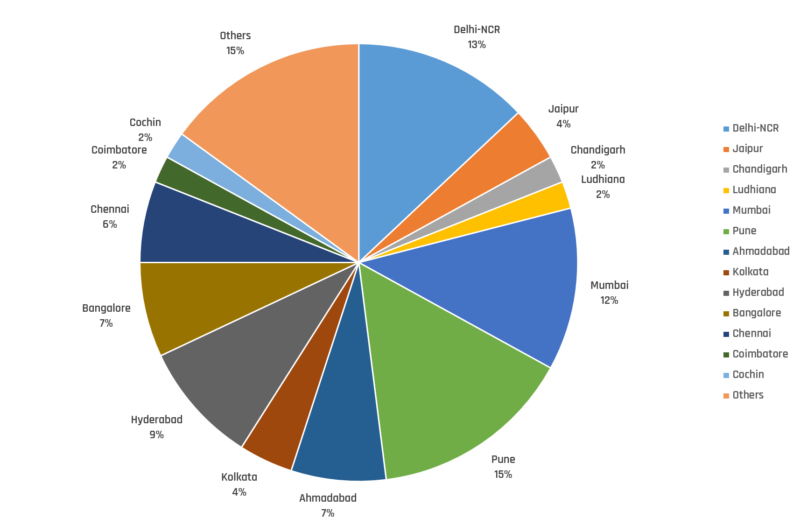 The home automation market worldwide is making a shift from wired to wireless systems. The key growth drivers for this demand are increasing consumer awareness and financial ability, product innovations (like smart phone apps), builders' requirement for market differentiation and an increase in the preference for energy efficient systems. However the market is still in its growth phase with a significant gap for more innovative and connected systems. Some of the key constraints include high product costs and moderate levels of satisfaction among the customers.
Some of the key problem areas in India are issues with wired systems and MNC's offering smart wireless products are as follows:
Difficult to retro-fit: Standard products are available, customer needs to replace their existing infrastructure to get the things smart. Also less flexibility to customize.
Lack of inter-operability between different products
Lack of remote management from outside: Most of the smart products available in market are Wi-Fi based and especially in India, Wi-Fi infrastructure still a problem.
Settings to be configured only by company engineers: In case of wired automation, customer is dependent on company for every small issue as he is not aware of system.
Lack of flexibility for adding new products: Expand-ability is biggest issue with wired system and with wireless generally products comes with standards kits.
High installation time.
Although MNC's are entering the market, the process of purchasing and maintaining a system sold by a MNC's is still not smooth. Some of the drawbacks of foreign players in India are as follows:
Product replacement times are very high in case of faulty.

Lack of service infrastructure, as market is in still growth phase hence not established service infra setup.

Lack of support for 'India-models' of products as codes are written for US models.

Lack of support for system integrator.
Unsuccessful wireless solutions by MNCs is leading to system integrator creating their own protocols or switching to open source products. This in turn leads to higher margins for the integrator.
hIOTron, an integrated technology solutions company functioning in the Consumer IoT and Industrial IoT domains offers very intuitive home automation solution based on its most innovative product Hi-HUB, which offers high flexibility, retro fit solution for every needs, expand-ability, can be fitted by consumer although it offers free installation service which hardly takes 30 min time to automate 2-bhk home. hIOTron's pan India presence, combined with its acknowledged capability to optimize its core capabilities across diverse technology platforms, and commitment to quality and support facilitates the delivery of best in class solutions.
hIOTron Home Automation kit will take you a step forward to prepare you for the new cutting age technology with trust, which will connect you with world of wireless automation with ease and provide you a sense of security and belief. We assure that you will fall in love with home automation once you use it.

We transform ideas into tangible industry grade solution with end to end (Hardware & Software Platform) delivery. Let us hear your idea and together we can build something new.