You own a Smart Phone, a Smart Watch, a Smart TV, a Smart Car etc.…. All these devices are smart only individually and do very limited interaction with each other. Welcome to the era of the Smart Home Automation, now integrate not only the below smart devices but all your electrical equipment in your home. With hIOTron Smart Home Automation System you now have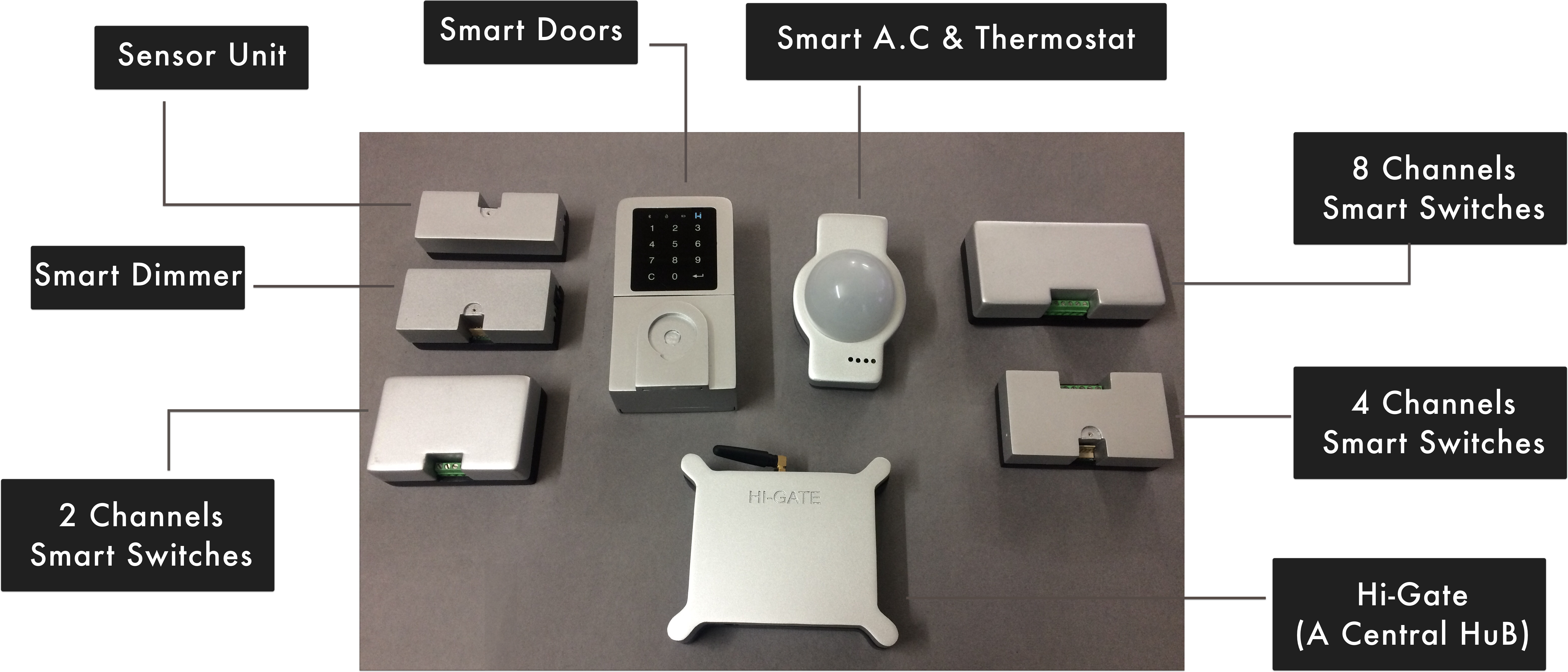 hIOTron smart home automation system includes everything required to convert a simple home into smart such as switches, dimmers, door contact, 5 types sensors IR combo pack, Indoor & Outdoor camera, smart lock controlled by a central hub. They combine and exceed the best features on the market, and are retrofit easily installed without the need to modify your home's electrical system or change your light bulbs.
SMART HOME AUTOMATION  SYSTEM– HOME IS WHEREVER YOU ARE !
hIOTron Smart Home Automation System enables set up and control of luxury home automation system in just a few steps right from the Android® or iPad®. Homeowners can rapidly create lifestyle scenes for each room, schedule events, and much more without ever opening a laptop. It also empowers homeowners to confidently make changes to their scenes, settings, and even system schedules with just a few taps on an iPad or touch screen to improve better
How one can convert any Home into Smart ?
For converting any simple home into Smart Home Automation requires hIOTron state-of-the-art smart Products, hIOTron IoT™ Platform & Mobile Application (Android/iOS/Windows).
What do i need to turn my home into smart? 
hIOTron Smart Home Automation System designed to utilize your existing Home Eco-system (Retrofit solution) means it simply converts existing switches, appliances or any other just into smart & integrate all-in-one app, making everyday tasks a little easier. To get start with this simply select the package from the below given options as per your home requirements
What if i Need Customization or Support or Live Demo?
Please contact our support team for customization or to understand your requirement in more details. 
"It is clear that the power and capability of the hIOTron IoT platform & suite of application solutions is immediately applicable to address the requirements of even the largest scale enterprise systems in commercial and government applications. hIOTron is a technological tour de force."
"hIOTron has demonstrated a unique ability to rapidly design, provision, and deploy scalable & enterprise IoT solution with edge analytics and machine learning capability into highly-functional and beneficial enterprise applications."