Make your 
Life 

easy & smart
Welcome to the era of the Smart Home Automation, with hIOTron® Smart Home Automation System you now have everything required to convert a simple home into smart home such as switches, dimmers, door contact, motion & light sensors, sense-R (Smart thermostat), Indoor security camera, smart locks controlled by a single central hub. They combine and exceed the best features on the market, and are retrofit easily installed without any modification in your existing home's electrical system.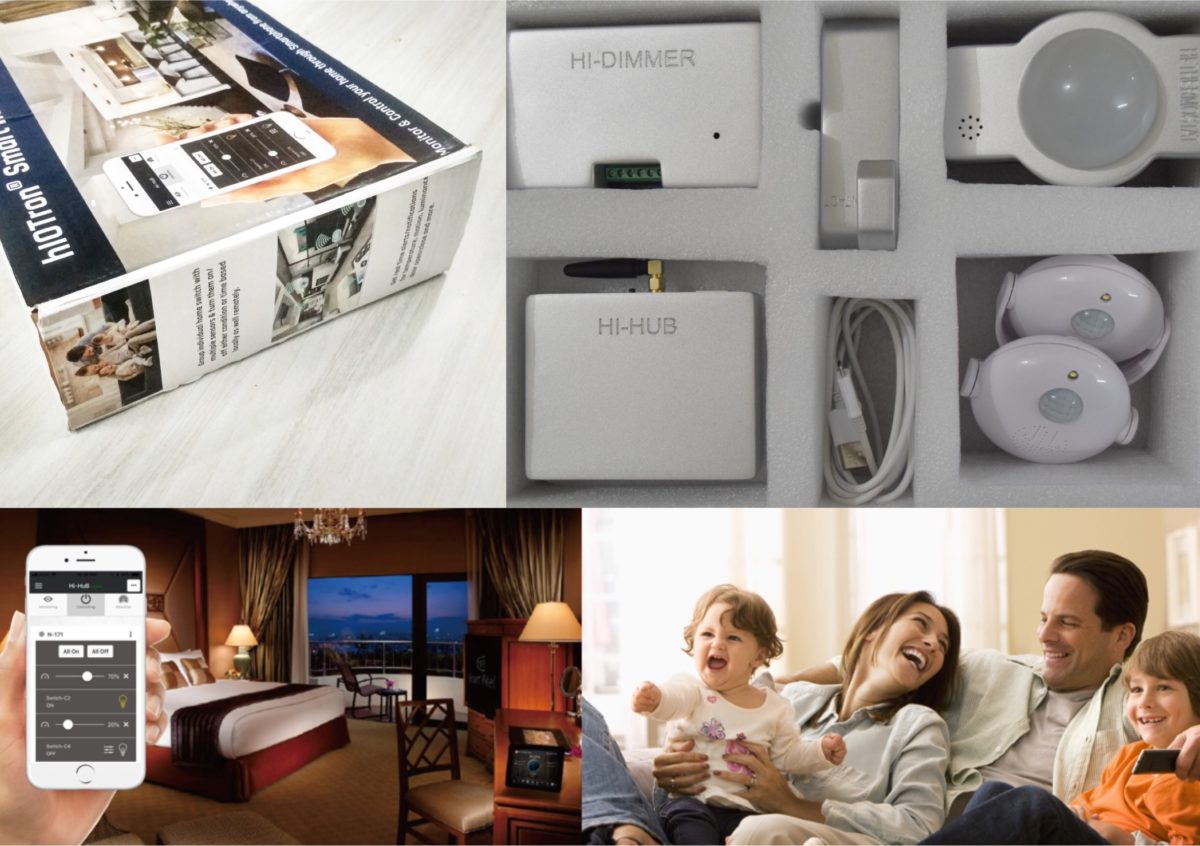 hIOTron Smart Home Automation System enables set up and control of luxury home automation system in just a few steps right from the Android® or iPad®. Homeowners can rapidly create lifestyle scenes for each room, schedule events, and much more without ever opening a laptop. It also empowers homeowners to confidently make changes to their scenes, settings, and even system schedules with just a few taps on an iPad or touch screen to improve better
Whether you have two smart devices or 200, all you need is one Hi-HuB to create a smart home. A Modular Hi-HuB is the heart of your home automation system. It connects to your home via any available internet connectivity Wi-Fi/Ethernet or cellular (Never be down) and can control up-to 200 hIOTron smart devices using smart phone from anywhere in world.
Connects to internet via your home Wi-Fi or Ethernet or GPRS (2G/3G/4G) or priority/availability based.
Support more than 5 local (RF) connectivity protocols including Wi-Fi, Zig-Bee, Z-wave, BLE4.0, Lo-Ra & Sub-1 (GHz).
Run Bluetooth4.0 & any one RF protocol at a time.
Can connect up-to 25 hIOTron Nodes (each node maximum control 8 devices) within 1Km. (Line of sight) & 250 Meters (Non Line of sight) range.
Can be easily integrated with amazon Alexa. v Multiple hubs can be accessed via single account in mobile app or web-page.
Constantly evolves through Firmware over the air (FOTA).
Compact wall mount design. No holes in your walls. No tools necessary
Hi-Nodes are nothing but a multiple application specific nodes which will be actually communicating to home appliances or devices to control or monitor real time sensors data and forward that to Hi-HuB using any of the local communication protocol such as Zig-Bee, Z-wave, BLE4.0, Lo-Ra & Sub-1. This nodes are
Hi-Dimmer/Switch (2/4/8 channels) – A retrofit Hi-Dimmer/Switch can be used to automate any existing switchboards having 2/4/8 switches with two way functionality (Mechanical & Logical) that operates lower power appliances like lights and fans On/Off .
Smart Thermostat – Smart Thermostat is designed & developed with a purpose of Monitoring  temperature & humidity along with controlling of any IR remote based equipment such as AC, TV, Setup-box or other using smart phone for next generation smart home automation system.
Light & Motions Sensor – Light & Motion sensor unit specially designed to detect live motion or  presence and luminance. It can also be used as smart door bell, having inbuilt buzzer/sounder to get alerts. It simply runs on single 4-AAA batteries & wirelessly connects to the Hi-HuB.
Security Sensor (Door/Window) – Security sensor specially designed to know the status (open/close) of Door or Window remotely. It simply runs on single AA battery cell & wirelessly connects to the Hi-HuB.
Indoor Wi-Fi Security Camera – Wi-Fi Indoor Security CCTV Camera having 1 Megapixel with two audio communication powered though 12v adaptor which perfectly suits for your home to monitor, capture and get alerts for un-predictable events and many more such as Pan/Tilt. Temperature, Humidity & Motion detection & alerts for same.
hIOTron IoT platform delivers a comprehensive platform as a service (PaaS) which enables the rapid design, development, deployment, and operation of consumer & enterprise IoT applications. hIOTron IoT platform takes care of end customer application dashboard & mobile application access along with all in one synchronized functionality for various application dependent features such as
Device Management – Manage & Register your Home Devices with proper Authentication & Authorization process.
Device Connectivity – Seamless connectivity from Platform to Hi-Gate & Hi-Gate to Hi-Nodes.
Data Storage – Store Important Devices and User Data to get best values results.
Data Analytics – Supports multiple analytical models in terms of scenarios (Condition bases automatic actions).
Dashboard & Application – Fully sync Dashboard & Mobile Application in Android/iOS/Windows.
Quickly and easily configures and controls whole-home audio systems, lighting, shades, thermostats, door locks, and security systems. Use this free home automation dashboard & mobile App to set up these devices with custom presets on an Android® Apple® iPad® and control them from iPad, iPhone®, and iPod touch® devices.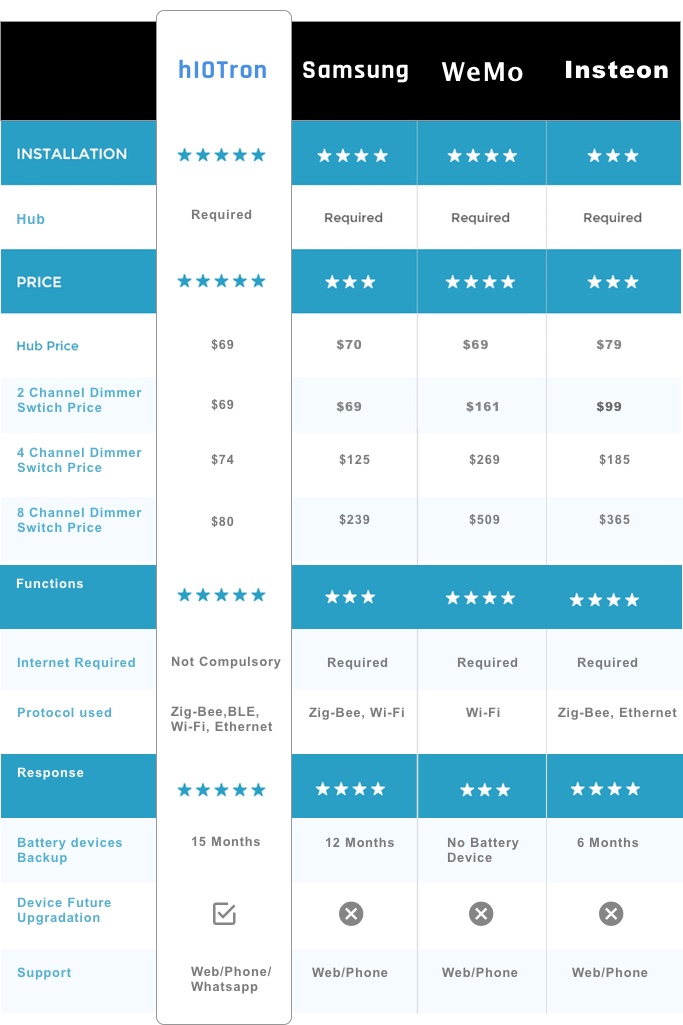 hIOTron Smart Home Automation System designed to utilize your existing Home Eco-system (Retrofit solution) means it simply converts existing switches, appliances or any other just into smart & integrate all-in-one app, making everyday tasks a little easier. To get start with this simply select the package from the below given options as per your home requirements.